---
Elaine Buckholtz, Professor
Courses: SIM Major Studio ,Mining Meaning, Interrelated Media Practice, Experimental Ensembles, Sound Performance, Sculptural Lighting
Elaine Buckholtz is a Light Installation Artist. Her recent work utilizes video and light in relation to sculptural forms, digital prints, and pre-existing sites in architecture and nature under the cover of darkness. Buckholtz has a longstanding background in visual and lighting design for the stage, having worked with the likes of Terry Riley, Merce Cunningham, and Meredith Monk. A significant aspect of her visual work has involved direct experiences and immersive environments for the viewer to engage in – the materials of her work have included light, vision, and perception in relation to objects as large as cathedrals and as small as a pair of glasses. 
In 2021, her work "A Telling of the Light" was exhibited at the Durham Lumiere Festival, in homage to lives lost to the COvid pandemic in England. She has collaborated with Future Farmers at Freshkill; has exhibited at The Minnesota Street Project and Gallery 308 in San Francisco CA; The International House of Japan in Tokyo, Japan; and The Lumiere Festival in London, England. She received a Fulbright Specialist Fellowship in 2018 and the Japan Friendship Commission Fellowship for 2017.  Her work is held in the collections of numerous private collectors on the East and West coasts of the US and abroad. Buckholtz received two consecutive MFA's from California College of the Arts and Stanford University from 2002 to 2006 with the support of The Jacob K. Javits Fellowship.  
Elaine's knowledge base includes:
Light Installation and Optics

Lighting Design 

Experiential Scores

Contemporary, Sound and Conceptual Art

Philosophy

Language, Poetry, Text and Image 

Natural History

Questioning form and translating mediums  

Mediated images

Unusual occurrences in nature and strange experiments

Culinary development 

Walking
---
Dana Moser, Professor
Courses: SIM Major Studio, Electronic Projects, Internet Culture and Techniques
Dana has been a transformational architect of the SIM program since his arrival in 1986 and the longest serving full time faculty in the history of the SIM program. He was a pioneer actively involved at the inception of internet art and his Electronic Projects course has inspired generations of students. His research includes artistic applications of video, electronics, music, networks and interactive technologies.
Dana has been a guest lecturer at the Chicago Art Institute, San Francisco Art Institute, Harvard University, Brown University, M.I.T. "Transmit" conference, OSCON International Open Source Conference, Art Technology New England Conference, and the Progress Bar in Bratislava, Slovakia.  He has exhibited all over the world including the Boston Cyberarts Festival, Berlin, Germany; Centre Georges Pompidou, Paris; MIX Film/Video Festival, NYC; National Museum of Science and Technology, Ottawa; and The Institute of Contemporary Art, Boston.  At MassArt, Dana created some of the earliest MassArt webpage pages as well as the first SIM website that incorporated groundbreaking social networking features.  
In 1999, Dana was a featured artist on the WGBH-TV and Decordova Museum documentary about the history of video the  "The Electronic Canvas." His work has been written about in Leonardo Journal, the Technology Review/MIT Press and Art Papers.
Dana's knowledge base includes:
Computer programming (C, Lisp, Java, Python, Processing, PureData, Max/MSP/Jitter)

Working with electricity: sensors, homebrew synths, circuits, Arduino, Raspberry Pi

Video Art (history and techniques for editing)

History of the Internet and Internet  technologies

World music and traditional western musical composition

Studio for Interrelated Media history

Anarchism

Queer Culture
---
 Juan Obando, Professor
Courses: SIM Major Studio, Interrelated Media Practice, Publications: Print and Digital, We are Pirates!
Juan Obando is a Colombian artist whose work focuses on the critical intervention of social systems and the subsequent production of video-performances, post-digital objects and screen-based installations —presenting the screen as a site where ideology confronts aesthetics and new worlds are speculated. In 2013, Juan was awarded the Rhizome Commission from Rhizome and The New Museum in New York to develop the project "MUSEUM MIXTAPE (Dirty South Edition)". Obando was recently selected for the Luis Caballero Art Prize in Bogotá, Colombia, one of the most important awards for contemporary artists.
Among his most recent exhibitions are The Champions (solo), El Parqueadero, Banco de la República, Bogotá, Colombia, 2015; Default Browser (solo), (bis) | oficina de proyectos, Cali, Colombia, 2015; A Bird Without A Song (Keep Playing) (solo), Espacio ArtVersus, Bogotá, Colombia, 2014; Frame & Frequency, Plecto Galería, Medellín, Colombia, 2014; Colombia Hoy, I Bienal Internacional de Arte Contemporáneo de Cartagena de Indias, Cartagena, Colombia, 2014; La Desilusión de la Certeza o la Ilusión de la Incertidumbre, Pabellón ArteCámara, ArtBo, Bogotá, Colombia, 2013; White Only (solo), MIAMI, Bogotá, Colombia, 2013; Goddess Clap Back / Hip Hop Feminism in Art, CUE Art Foundation, New York, USA, 2013. In 2013 he was awarded the Rhizome Commission from Rhizome and The New Museum in New York to develop the project "MUSEUM MIXTAPE (Dirty South Edition)".
Juan holds a BFA in Industrial Design with a minor in Architecture and Urbanism from Universidad de Los Andes in Bogotá, Colombia, and an MFA in Electronic and Time-based Art from Purdue University.
Juan's knowledge base includes:
Latinamerican art
Video/animation/web
Architecture/urbanism
Punk, hardcore post-punk, 90s skateboarding
'zines, podcasts, publications
Social practice & interventionism
Pop music
Curatorial practices
Decolonial aesthetics
Relational aesthetics
---
Nita Sturiale, Professor 
Courses: SIM Major Studio;  Event and Exhibition Planning and Production; Observation Data and Art
Nita has been at MassArt on and off since she was an undergrad in 1986. Nita balances an interdisciplinary life as an artist, teacher, entrepreneur and mother. Nita founded the Regali Artist Residency in Sicily which facilitated the collaboration of 12 artists over 5 years in both Boston, Massachusetts and Favara, Italy.  Nita's artwork explores natural phenomena, cognition, and emerging technologies. She has presented her work at Boston Museum of Science, MIT's Media Lab, Cambridge River Arts Festival, Conflux Arts Festival in NYC, Tufts University, Mills College, Harvard University, in Wales, Beijing, and Milan. She is included in Stephen Wilson's book, Information Arts (MIT Press, 2001). Nita enjoys writing poetry, is the unofficial Studio for Interrelated Media historian, and thrives on supporting her students' journeys from ideas to action to documentation.
She developed and taught two signature courses at Harvard University for several years – Creative New Media and the Web and Applied Innovation in Wireless Computing. She has also taught at Endicott College,Greenfield Community College, as well as the Pennsylvania's Governor's School of Excellence in Science at Carnegie Mellon University, as well as in various K-12 environments in MetroBoston. She was a founding member of the first Boston Cyberarts Festival's Youth committee which pioneered the Festival's Faces of Tomorrow online portrait gallery for youth in 1999.
NIta is included in Stephen Wilson's book, Information Arts (MIT Press, 2001) and has received several honors and awards including: Artscience 100K Prize Juror; Marilyn Pappas Faculty Fellowship; Copley Society of Art, First Juror's Choice; LEF Foundation Grant; Cambridge Arts Council Grant. As a Jacob K. Javits Fellow, 1994-97, Nita received a Ed.M, Harvard Graduate School of Education and a M.F.A., Tufts University Graduate School of Arts and Sciences, combining art, science and education. Her BFA is from the Massachusetts College of Art.
Nita's knowledge base includes:
Organization methods

Leadership

Project management

Writing (proposals, grant applications, resumes, artist statements, poems, etc.)

Studio for Interrelated Media history

Conceptual Art

Event Production

Art and Science Interconnections

International Collaboration

Godine Family Gallery and Eventworks Festival
---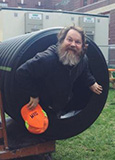 MAX AZANOW Associate Director & Adjunct Faculty

Courses: Stagecraft and Technical Production, Light Lab
Max is a working Lighting Designer with a  touring history in Lasers, Pyrotechnics, Power Distribution, and Backline.
Max's knowledge base includes:
Technical Direction

Labor Management

Production Design

Stagecraft

Cat whispering

Cultivation
---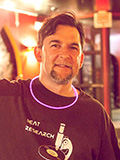 ANTONY FLACKETT AV Manager and Adjunct Faculty
Courses: Beat Research, Experimental Video
Antony Flackett is a video/multimedia artist and musician living in the Boston area. He also records and performs under the name DJ Flack.  His single-channel videos and video dioramas have been featured in numerous shows and festivals across the world and he has also been part of many bands and live music/art collectives over the years.  His "Beat Research" electronic music events were an integral part of Boston's underground electronic music scene since its inception in 2004 and he has been broadcasting local video art on his cable show "Tony's Choice" since the early 90s.  department. 
Antony holds a BA from Bard College in Film/Video and an MFA from MassArt's SIM and was featured in "DJ Culture: What is a DJ?" produced by Project New Media Literacies, a research initiative based within MIT's Comparative Media Studies program. 
Antony's knowledge base includes:
Video editing

Audio editing

Beats

Music Production

Live Performance

Zoom Video Conference Software
---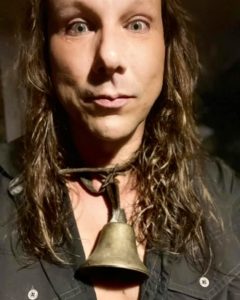 ERIC FREEMAN Studio Manager and Adjunct Faculty
Courses: Sound Studio, Advanced Sound Studio, Immersive Experience Design, Immersive Media – Full Dome
Eric is a musician, sound engineer, photographer, videographer, and immersive design artist living and working in the Boston area.  He holds a Bachelors degree in Photography from the Mary Myers School of Art and a Masters degree in Interrelated Media from the Massachusetts College of Art.
Eric's students have screened their work at the Charles Hayden Planetarium at the Boston Museum of Science as well as several full dome theaters around the world. 
Eric's knowledge base includes:
Audio production for music and video
Photography – shooting & printing
Video – shooting & editing
FullDome production
Multimedia installation
Studio building
---
Previous Full Time Faculty:
Juan Obando, Professor (2015-2022)
juanobando.com
Kianga Ford, Professor (2006–2009)
Denise Marika, MFA Program Coordinator (2005–2014, Denise passed away in 2018)
https://www.legacy.com/us/obituaries/bostonglobe/name/denise-marika-obituary?id=1738137
Dawn Kramer, Professor Emeritus (1976–2014)
dawnkramer.info
https://en.wikipedia.org/wiki/Dawn_Kramer
John Holland, Professor Emeritus (1980–2009) johnhollandcomposer.wordpress.com
Donald Burgy, Professor Emeritus (1974–2001)
www.donaldburgy.com
https://en.wikipedia.org/wiki/Donald_Burgy
Leila Daw, Professor (1990–2000)
www.leiladaw.com
https://en.wikipedia.org/wiki/Leila_Daw
Lowry Burgess, Professor (1981–1989, Lowry passed away in 2020)
www.lowryburgessfoundation.org
http://www.art.cmu.edu/news/faculty/lowry-burgess-1940-2020/
Harris Barron, Professor Emeritus (1969–1988, Harris passed away in 2017)
www.harrisandrosbarron.com
Over the years we've been lucky to have had a number of amazing Visiting Faculty, Adjuncts and Studio Managers. Here is a partial list – so many more. help us remember – if you have taught or worked in the SIM department send a reminder to nsturiale@massart.edu :
Elizabeth Mezzacappa, Department Assistant (2020 – present)
Jacqueline Cassely, Department Assistant (?? until 2020)
Anjali Srinivasan,  Visiting Faculty (2021 – 2022)
Tomashi Jackson, Visiting Faculty (2017-2018)
Darren Cole, Visiting Faculty (2018 – 2019)
Jimena Bermejo,

Adjunct Faculty (2015 – 2018)

Ben Bigelow, Visiting Faculty (2014-2015)
Sandrine Schaefer,

Adjunct Faculty (2013-2021)

Ellen Rothenberg,

Visiting Faculty (1989 – 1993)

Bruce Robert Bowen, Studio Manager (1978–2010)
Richard Collier, Studio Manager (1974–1978)
Joe Upham, Studio Manager (1970–1974)
Dana Colley,

Adjunct Faculty

Stefan Moore,

Adjunct Faculty

F

red

W

olflink,

Electronic Projects Guru