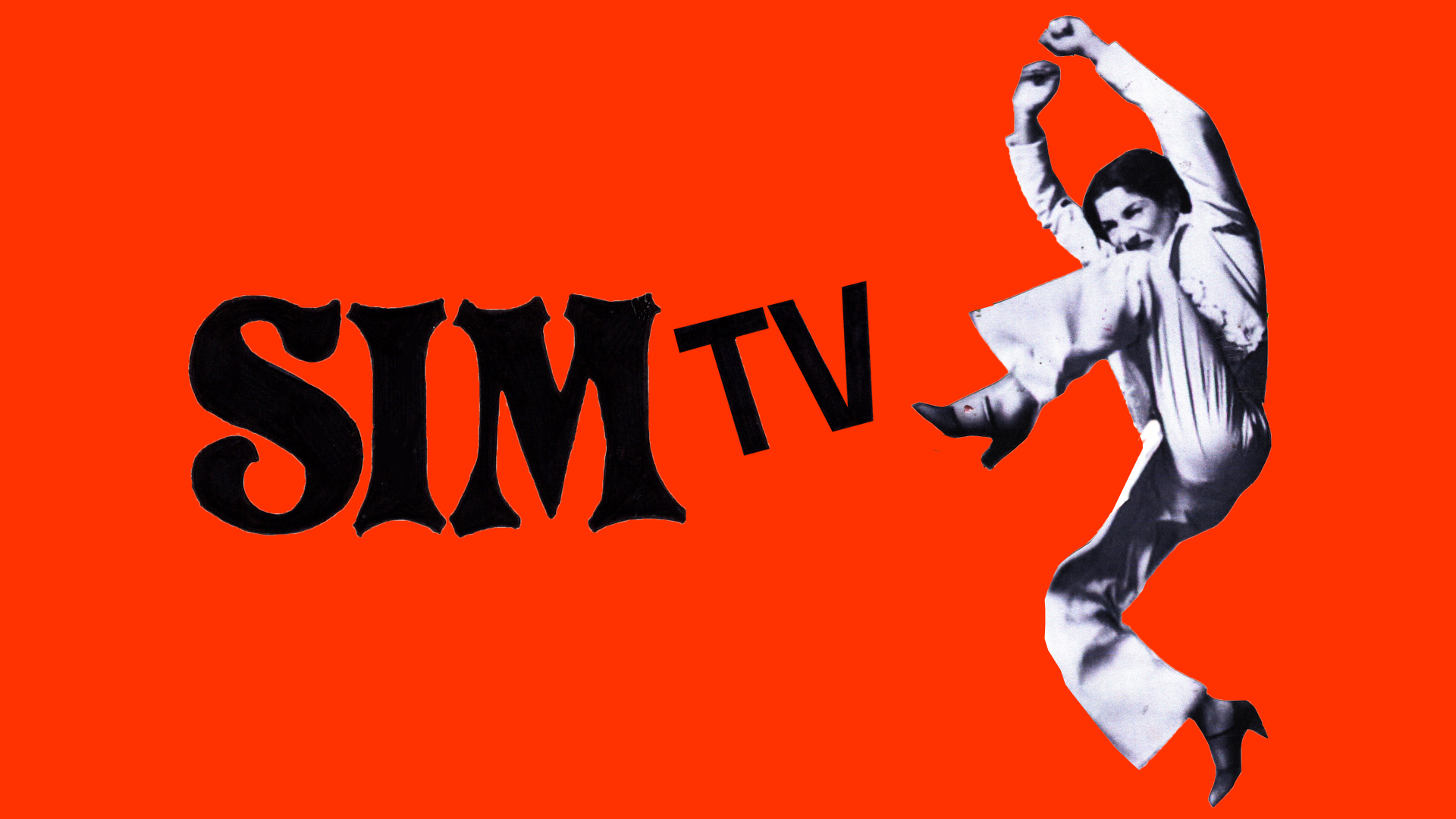 Check out the public face of SIMtv – https://www.simtv.org
SIM episodes so far!
#1 Pilot (featuring a welcome message from Katya!)
#2 "SIMply Spooky" – launch Halloween 2020
#3 "SIMtv #3" – launch Thanksgiving 2020
#4 "SIM Showcase" – launch New Years Eve 2021
#5 "What do we do now?" – launch Inauguration Day 2021
#6 "SIMtv Music" – launch March 18, 2021
#7 "The Kind of Late But Not Enough That We Can Say F— Show!" – launch April, 1, 2021
#8 "SIMtv Silent"- launch April 17, 2021 at Cyberarts Gallery Window Show
#9 "SIMBIG50" – launch April 17, 2021, 7 pm with live introduction, followed by zoom cocktail hour
#10 "Sunnyside Manor" – launch May 1, 2021
SIMTV guidelines for current SIM Majors:
The SIM community has traditionally defied the preconceptions brought by the challenges of history. We now are facing a new world in which physical distance is redefining our means to be social, public, artistic and communicative. For a moment in which the world has been brought to a halt and where we are dealing communally with a global pandemic, the internet has become the context for education, art, amusement and frustration.
A public exhibition of the work of artists in the SIM Department is one of the anchors of our curriculum each semester. Traditionally these are the "SIM BIG Show" in the Fall semester and the ALL-School Show in the Spring. These showcase the talents, critical inquiries and artistic advancements of our community members through a communal production effort that requires all our hearts and minds to work together in translating what we do in SIM to a general public and making it solid, cohesive, entertaining, confrontational and many times weird and funny.
For the FA2020 semester, as we are in a time when social distancing prevents traditional audience gatherings, students are invited to rethink ways to interface with a public audience. This semester affords students in the SIM major the opportunity to expand beyond the traditional production skills acquired in our program (lighting, projection, sound) to include instruction from visiting professionals in online content production. With TV as a model to both embrace and push against, SIM will create streaming broadcasts over the course of the semester that only SIM can produce. Content created remotely and collaboratively may include periodic on-campus recording sessions with small numbers of students, faculty and staff if possible. These episodes will be launched live on streaming venues such as SIM Twitch, Instagram, YouTube and Vimeo channels, available as a public exhibition. Working title – SIMTV.
Segment ideas will be submitted for consideration and a team of students will program the episodes. Any content that doesn't make the show can be available on a private SIM Vimeo channel and in consideration for future shows.
The proposed format is a frame within which anything can happen. There are many historical and contemporary broadcast examples we can use as a structural reference – Saturday Night Live, Some Good News, ZOOM, Monty Python, to name a few. The format is flexible, it allows itself to be twisted while preserving its integrity, and it is able to hold the multiversity of work proposed by the community. There are several levels and forms of participation that, as a student, you can combine and redefine: from behind-the-scenes production roles (music production, animation for intros, social media management, video editing) to on-screen talent (music performance, sketch acting, MCing, general content creation). Small working groups will be scheduled and coordinated over the course of the semester. Additionally, SIM elective faculty will support students that would like to present their work in these classes on SIMTV.
Lights, camera, action!
The work for SIMTV may be broken up into the following proposed departments. These are suggested departments based on best practices in the TV production scene. As we dive into this work, roles and responsibilities will emerge that make sense within our community. Some students will gravitate toward production organization while others will prefer to work on their individual practice and submit content to be aired. Some students may be able to work in physical social bubble groups while others will work entirely remotely.

Executive Production Department
Executive Producers: Creates and updates the to-do list of everyone. has the whole project and timeline in their minds, each individual episode or all 3, keeps track of how all moving parts are connected and communicating, keeps a document updated with ALL the information that each dept needs with deadlines and location information – including where are all the documents being stored for the video editors to compile
Communications and Collaboration Managers: This role is related to executive producers' job but would make sure that the left foot is talking to the right foot and figuring out a protocol, methods, tech for communication amongst all the different "departments")
Production Design Team
Production Designers: This role is more for a sound stage or on location purpose and doesn't really fit into the pilot that we are doing since we are all in remote locations, however, if there are any standard color palettes, design guides, fonts, stylistic decisions for the photo bumpers, and stage sets that will be used in all the episodes that be decided by this person
Graphic Designer: This role creates the images that represent the design on the graphical components and realize the look and feel of the overall show
Curatorial Department
Episode segment Jury (we'll need to create a process, timeline and team for this)
Student Submissions manager – Determine, describe and invite submissions and/or participation in segments and other jobs.
SIMTV submission administrator (Create and manage a private vimeo channel for content that doesn't make it to the show)
Writing Department
Script writers: We will need someone to write down the script for the MC, for the talking parts of any segments, the interview questions, also the storyboard of the whole episode – it can overlap for our purposes
Writing and editing SIMTV description and episode synopsis for archive and publicity purposes
Video Production Department
Video editors: Video editing is the foundation of the project – we'll need editors to support the work of performers that are not interested in the editing aspect and editors to bring all the separate components together. The editors will work closely with our SIM TA – he will be doing the final edit for prime time.
Green Screen Technicians: We won't need much of this it sounds like for our pilot but there are INFINITE possibilities for green screen use for future episodes. But this person would learn all the green screen tricks and help incorporate them into segments working with other artists
Animators: We will need lots of animated text, sequences, credits – works with the production and graphic design team
Lower thirds graphic designers: works with the production and graphic design team)
Lower thirds video editors
Twitch Tech
YouTube Tech
Sound Design Department
Musical Director / Producer – Theme Music
House Band
Sound Editors
Accessibility Department
Coordinators
Caption Writers
Distribution and Publicity Department
Distribution
Social Media Dept: This team will buy ads on IG and FB and connect with other cultural institutions in town and around (MFA/ICA etc) to propagate our content far and wide,.
External Talent Outreach and Communications Department
Artists
Spotlight Artists
MC
Segment creators
Performers