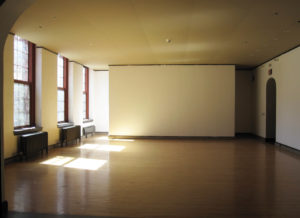 The Godine Family Gallery is one of several student-run galleries on the Massart campus. In keeping with the gallery's ties to the Studio for Interrelated Media, we encourage works of all media with particular focus on that which is rich in conceptual content and carefully considers the role of the gallery in the display of artwork.
If you are interested in exhibiting in the Godine Family Gallery, please contact the current student gallery managers. Please include a proposal, an artist statement and examples of the work you intend to show.
Proposals are accepted on rolling deadlines, although all arrangements, permissions, and forms must be approved at least two weeks before a show is installed. In the case of openings, live performances or screenings, exhibitors are responsible for the following MassArt policies on events. The Gallery managers are happy to assist.
Check out this 360 view of the gallery!!!
Contact Info
Godinegallery@massart.edu
617.879.7114
Office Hours: by apt.
Office is located on the first floor of the North Building, across the hall from the Pozen Center and the Godine Gallery. Room N-175.
Visit our site – https://www.godinefamily.gallery
Summer Use
If you are interested in using the Godine Family Gallery during the summer months you must seek approval from the SIM Studio Manager.  Summertime is often used for repairs and maintenance and availability is limited. Godine Family Gallery usage is NOT linked to Pozen Center rental or reservation. It is a separate process.
About
The Godine Family Gallery serves as an educational tool for students in the Studio for Interrelated Media (SIM) who are interested in curatorial work and event production – much like Eventworks.  Since its inception, the Godine Gallery has been entirely student-run. Because of the direct involvement of students, the space reflects the conversations present within the institution as well as the larger creative world. The Godine Family Gallery has exhibited works of MassArt visiting artists, including interdisciplinary artist Marguerite Kahrl (www.kahrl.com) and sculptors and installation artists, the de la Torre Brothers (www.delatorrebros.com).
As a professional gallery set in an educational institution, the Godine Family Gallery is a means by which students can fully realize the potential of their artistic practice. The gallery is set apart by its focus: beyond merely acting as a means of showing work, the gallery serves as a nexus point where students, faculty, practicing artists, and other members of the community can take part in an intellectual, cultural and creative exchange. Because of its liberal approach to the institutional definition of the gallery's role, the space is structurally organic, moving from exhibition to event, 2d and 3d work to performance. The Godine Family Gallery is an ever-changing and dynamic setting, growing and developing with each year of student involvement.