Thank you for celebrating with us!
We had a fabulous virtual party – that didn't really feel virtual.
Come back to this page for updates and followups about how to celebrate SIM's 50th birthday!
---
SIMBIG50 Virtual Event credits:
Executive Producers – Max Azanow, Nita Sturiale
SIMBIG50 Video Director and Editor – Duncan Wilder Johnson
Virtual Event Producer – Monica Chiang
Virtual Event MC – Zayde Buti
Virtual After Party Host – Kara Stokowski
Alumni Relations – Darlene Gillan, Megan Cronin
SIMBIG50 Program Designer – Naomi Gabizon
Video Closed Captioning – Maddie Hluska
Catalog Curators and Editors – Sam Toabe, Evan Smith
Catalog Designer – Mary Yang (Open Rehearsal)
SIM Archive Research and Development – Nita Sturiale, Danielle Sangalang, Alison Beaudette, Brooke Scibelli, Noah Roscoe, Dyllan Nguyen
SIM Archive Website Developer – Dana Moser
SIM Timeline Developer – Nicky Enriquez, Nita Sturiale
Current SIM Faculty – Elaine Buckholtz, Juan Obando, Dana Moser, Nita Sturiale
Current SIM Adjunct Faculty – Eric Freeman, Max Azanow, Sandrine Schaefer, Antony Flackett
SIM Staff – Max Azanow, Eric Freeman, Elizabeth Mezzacappa
Special thanks to Ros Barron, Kym Pinder, George Fifield, and all of the Adjunct Faculty that have brought their energy and unique gifts and perspectives to our students over the years and our Alumni that have been interviewed and/or sent archival materials to the SIM Archive!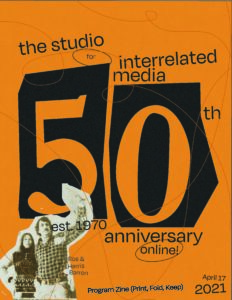 Download and PRINT, FOLD, KEEP
the SIMBIG50 Program Zine.
Designed by Naomi Gabizon (SIM' 21)
download the complete .pdf file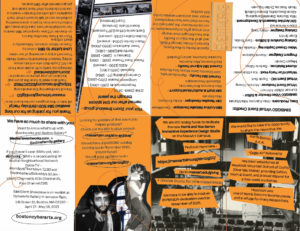 ---
We'd like to take this opportunity to share some SIM NEWS!
We are please to share that the Harris Barron, A.K.A. "Eagle Air" Fellowship has been established at Haystack Mountain School of Crafts (Deer Isle, Maine) by Rose Barron. The fellowship provides tuition, room & board, and a travel stipend for a two-week workshop. Haystack was one of Harris Barron's favorite places and a refuge for many MassArtists.
If you have any questions feel free to contact Nita Sturiale (SIM '90)
nsturiale@massart.edu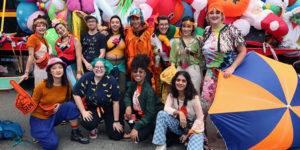 We still hold out hope for the following projects and events we had originally planned pre-covid.
SIM Alumni Exhibition

curated by Sam Toabe (MassArt SIM and Art History Alum and currently Gallery Director of the University Hall Gallery at the University of Massachusetts, Boston). MassArt Brant Gallery;

SIM Founding Faculty with Archive Selections Exhibition

curated by Evan Smith (MassArt SIM and Art History Alum, and currently Art Historian and Media Coordinator at the School of Visual Arts at Boston University). MassArt Arnheim Gallery;
Video Projection Installation curated by George Fifield (Founder of the Boston CyberArts Festival and the Art on the Marquee project). MassArt Tower Building West end lobby windows.
 SIM Alumni Panels during SIM Major Studio Class time:

Socially Engaged Practice and Pedagogy – occurred April 16, 2020 –

check it out!  simbig50-alumni-panel-series

Immersive Experience – DATES TBD

Sound Art –

DATES TBD

Pioneers in Production – DATES TBD

We have postponed our Harris and Ros Barron Immersive Experience Design Studio

N

aming Dedication

event

to honor Harris and Ros Barron

until further notice. We

will cut that ribbon on this new studio on our campus in the Design Media Center ASAP! We hope to make this a reality very soon! See below for how you can help with this! 
Please be sure and join our Alumni snail-mail and email lists. We are working closely with MassArt's awesome Alumni Relations team to keep in contact with you! https://massart.edu/alumni
Here is a direct link to join the SIM Alum and friends mailing list
And/or join our SIM ALUM private facebook group for updates – https://www.facebook.com/groups/StudioforInterrelatedMedia
---
Harris and Ros Barron Immersive Experience Design Studio
We need your help in raising the necessary funds to dedicate this new and exciting studio on campus in the name of Harris and Ros Barron.
The Immersive Experience Design Studio will incorporate the newest forms of visual creativity, story-telling, entertainment, research, and problem-solving. Immersive Experience technologies, including all aspects of XR – Extended Reality (virtual, augmented, and mixed reality) will be the highlight of the studio.  MassArt artists will be able to leverage their talents as visual artists, civic activists, and makers. This new studio will be a centralized location where students, faculty and staff from all departments will be able to demonstrate the cutting edge of technology, engage with the latest research and professionals in the field, share knowledge, collaborate on ambitious projects, and showcase their work. MassArt students continue to be shining examples of our mission of preparing artists, designers, and educators from diverse backgrounds to shape communities, economies and cultures for the common good. 
MassArt will be expanding this studio over the years, but SIM is getting things kick-started by dedicating the space in the Barron's name. We need $50,000.00 to make this happen. These funds will help us purchase AR and VR equipment, software and accessories; enable a make-over of the room;  get us some chairs to sit on; and ensure we have a shared collaboration space for students, staff and faculty to brainstorm! We have already received several generous seed contributions from wonderful SIM alum and friends. THANK YOU!
ANY amount will help us reach our goal!
In the ZONE
$10,000.00 and above
Eagle Airtists
$5,000.00 and above
On the Spotters
$1,000.00 and above
Friends and Loafers
$500.00 and above
Keepers of the Crypt
$100.00 and above
Space 46ers  
$50.00 and above
Presenters and Producers
aka Shared Experience Creates Community
$25.00 and above
If you'd like to donate you can do it online – https://massart.edu/giving – and choose Studio for Interrelated Media in the drop down menu. Or you can mail a check. Checks can be made out to MassArt Foundation with a note on the check that funds are to be used Harris and Ros Barron Naming Dedication. 
Please mail to:
Marjorie O'Malley
Executive Director
MassArt Foundation
621 Huntington Avenue
Boston, MA 02115
Additionally, you are always welcome to donate directly to our two scholarships that are dedicated to SIM Students:
Micah Danemayer Scholarship

Harris Barron Scholarship
I am including a few links to reconnect you to the amazing things happening at MassArt and in SIM that you might enjoy:
For further information, with any questions,  and/or if you would like to volunteer your talents, networks and/or time please email Nita Sturiale (SIM '90) nsturiale@massart.edu.