Reimagined with Love…
celebrate the Studio for interrelated Media's 50th birthday with us!
The Studio for Interrelated Media is celebrating our 50th year since Harris Barron founded the program in 1970. In SIM style, we continue to adapt to the challenging circumstances we find ourselves in and we are undaunted. Get your screens clean and shiny because we have lots to share!
On April 17 at 7 pm, we'll be live screening a "love letter to SIM" video (created by Duncan Wilder Johnson, Photo/SIM '99) that chronicles a half century of our shared experiences in the SIM department. The screening will be introduced In Real Time by special guests and will be followed by a zoom cocktail hour where we'll share with you the latest updates about the SIMBIG50 catalog (edited by Alumni Sam Toabe and Evan Smith), the SIM Archive Project, and the Harris and Ros Barron Immersive Experience Design Studio. You'll also get to reminisce with old friends and meet current students and hear how they are reinventing SIM even now.
Additionally, during the month of April, current SIM students are celebrating this milestone:
Click here to register for the SIMBIG50 Virtual Event! 
Our SIM video love letter will chronicle 50 years of SIM, include new and archival footage, interviews and stories from all 5 decades of SIM, greetings from around the world, and many surprises.
Here is a quick snippet, a work in progress, of what we've made so far.  We've been inspired by the work of our current SIM Majors – check out www.simtv.org
We've been collecting archival materials and your video messages as well as interviewing alum for our SIMBIG50 Love Letter video. While the deadline has passed to be in the video, we are still collecting materials for our archive. If you have materials (images, audio tracks, posters, videos, documents), please add it to this Google Drive folder.
If you have any questions feel free to contact Nita Sturiale (SIM '90, Professor)
nsturiale@massart.edu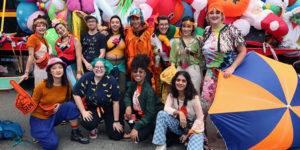 SIM was founded in 1969 by Harris Barron, with its first cohort of students in 1970. For 50 years, SIM has continued to be at the forefront of artistic experimentation – with play, collaboration, live events, and social intervention at its core.
Join us throughout 2020-21 to mark this important milestone in the story of the Massachusetts College of Art and Design.
We still hold out hope for the following projects and events we had originally planned pre-covid.
SIM Alumni Exhibition

curated by Sam Toabe (MassArt SIM and Art History Alum and currently Gallery Director of the University Hall Gallery at the University of Massachusetts, Boston). MassArt Brant Gallery;

SIM Founding Faculty with Archive Selections Exhibition

curated by Evan Smith (MassArt SIM and Art History Alum, and currently Art Historian and Media Coordinator at the School of Visual Arts at Boston University). MassArt Arnheim Gallery;
Video Projection Installation curated by George Fifield (Founder of the Boston CyberArts Festival and the Art on the Marquee project). MassArt Tower Building West end lobby windows.
 SIM Alumni Panels during SIM Major Studio Class time:
Online SIM Archive
We have postponed our Harris and Ros Barron Immersive Experience Design Studio

N

aming Dedication

event

to honor Harris and Ros Barron

until further notice. We

will cut that ribbon on this new studio on our campus in the Design Media Center ASAP! We hope to make this a reality very soon! See below for how you can help with this! 
Please be sure and join our Alumni snail-mail and email lists. We are working closely with MassArt's awesome Alumni Relations team to keep in contact with you! https://massart.edu/alumni
And/or join our SIM ALUM private facebook group for updates – https://www.facebook.com/groups/StudioforInterrelatedMedia
---
Harris and Ros Barron Immersive Experience Design Studio
We need your help in raising the necessary funds to dedicate this new and exciting studio on campus in the name of Harris and Ros Barron.
The Immersive Experience Design Studio will incorporate the newest forms of visual creativity, story-telling, entertainment, research, and problem-solving. Immersive Experience technologies, including all aspects of XR – Extended Reality (virtual, augmented, and mixed reality) will be the highlight of the studio.  MassArt artists will be able to leverage their talents as visual artists, civic activists, and makers. This new studio will be a centralized location where students, faculty and staff from all departments will be able to demonstrate the cutting edge of technology, engage with the latest research and professionals in the field, share knowledge, collaborate on ambitious projects, and showcase their work. MassArt students continue to be shining examples of our mission of preparing artists, designers, and educators from diverse backgrounds to shape communities, economies and cultures for the common good. 
MassArt will be expanding this studio over the years, but SIM is getting things kick-started by dedicating the space in the Barron's name. We need $50,000.00 to make this happen. These funds will help us purchase AR and VR equipment, software and accessories; enable a make-over of the room;  get us some chairs to sit on; and ensure we have a shared collaboration space for students, staff and faculty to brainstorm! We have already received several generous seed contributions from wonderful SIM alum and friends. THANK YOU!
ANY amount will help us reach our goal!
In the ZONE
$10,000.00 and above
Eagle Airtists
$5,000.00 and above
On the Spotters
$1,000.00 and above
Friends and Loafers
$500.00 and above
Keepers of the Crypt
$100.00 and above
Space 46ers  
$50.00 and above
Presenters and Producers
aka Shared Experience Creates Community
$25.00 and above
If you'd like to donate you can do it online – https://massart.edu/giving – and choose Studio for Interrelated Media in the drop down menu. Or you can mail a check. Checks can be made out to MassArt Foundation with a note on the check that funds are to be used Harris and Ros Barron Naming Dedication. 
Please mail to:
Marjorie O'Malley
Executive Director
MassArt Foundation
621 Huntington Avenue
Boston, MA 02115
Additionally, you are always welcome to donate directly to our two scholarships that are dedicated to SIM Students:
Micah Danemayer Scholarship

Harris Barron Scholarship
I am including a few links to reconnect you to the amazing things happening at MassArt and in SIM that you might enjoy:
For further information, with any questions,  and/or if you would like to volunteer your talents, networks and/or time please email Nita Sturiale (SIM '90) nsturiale@massart.edu.